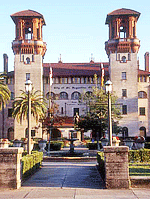 A rally will be held to inform the City Commission of St. Augustine that the community is tired of their massive encroachments upon the rights of citizens in the past two years.
The Boating community has been evicted from the bay, the artists and musicians have been banned from the plaza and St. George St. The new horse and carriage ordinance threatens to bankrupt the industry. Businesses and citizens are upset that the tourism industry is being damaged due to the commission's ordinances.
Time: 6:30 pm – 8:00 pm
Place: City Hall/Lightner Building, St. Augustine, FL
Date: Tuesday, September 28
Schedule
6:30 start time
6:40 Doug Courtney, who is running for the district 20 state legislature seat, will speak first. He is a strong supporter of the arts and businesses.
6:50 Janine Newfield and Marianne Lerbs will play music and speak. Janine is a renowned violinist and has been arrested 4 times. She was also the mayor's violin teacher. Lerbs is a renowned artist and musician.
7:00 Tom Cushman, St. Aug. defense attorney, has been in court over 100 times defending artists' and musicians' rights. He was influential in overturning 5 ordinances banning arts and music.
7:10 Roger Jolley and Ralph Hayes are long time residents/musicians, who are fighting the ordinances banning musicians.
7:20 Artists Elena Hecht and Kate Merrick sued the city 2009 for infringing on their 1st
Amendment civil rights and won an injunction. Greg Travous, has since been arrested four times.
7:30 Lee Malis/Bill DeLoach, Lee, a boater and publisher of the Watertown News, will discuss the ban on boaters. DeLoach, a boater and renowned musician, will sing and speak.
7:40 CB Hinson is an 84-year-old business man, and a WW II veteran of five invasions. He, a past Insurance company President, a former carriage driver, and an artist will close the rally.
7:50 Lots of local musicians will play to send people on their way.
Share your thoughts with our readers >>