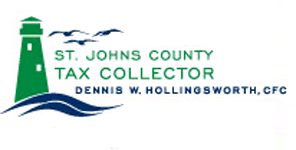 St. Johns County Tax Collector Dennis W. Hollingsworth, C.F.C., reported to local Historic City News reporters that the September tax installment bills are in the mail.
This will be the second payment toward the 2010 taxes for taxpayers electing to be on the incremental payment plan as established by Florida Statute. The first two installment payments are based on the 2009 tax rates and exemptions. Any changes between 2009 and 2010 taxes will be reflected on your third and fourth installments, or your December 2010 and March 2011 payments, after the 2010 tax roll has been certified.
Participants who received an installment bill in June 2010 but were unable to make payment at that time are no longer enrolled in the Installment Plan for the 2010 tax year and will need to reapply for the 2011 tax year by May 1.
The St. Johns County Tax Collector is receiving information and data from local taxing authorities for the 2010 tax roll which will be certified to our office by the Property Appraiser.
The Tax Collector will compile all tax rolls, generate and mail bills in time for the annual collection in November when property owners can take advantage of the four percent discount.
All St. Johns County property owners should have received a Truth in Millage (TRIM) notice in the mail. This notice is not a bill; rather, it is a notice of estimated proposed ad valorem taxes based on the assessed property value. The TRIM notice does not include any non-ad valorem taxes, such as solid waste, that may be included on the tax bill to be mailed in November.
Share your thoughts with our readers >>