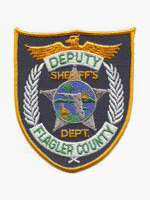 Public Information Officer Debra Johnson told local St. Johns County reporters with Historic City News that deputies in Flagler County were busy yesterday returning items stolen by three Palm Coast teenagers during an overnight vehicle burglary spree.
Deputies said the three teens were located around 6 a.m. Sunday in the parking lot of Petsmart on State Road 100. Deputies were responding to a report of suspicious people in the area.
While questioning the three, deputies said all admitted to breaking into vehicles in the "P" and "Z" sections of Palm Coast overnight.
By mid-Sunday morning, deputies had linked the three teenagers to ten car break-ins and had retrieved about $2,000 worth of stolen property. Deputies recovered several GPS, a camera, cell phone chargers and miscellaneous music CDs. The incidents are still under investigation.
"These boys should have been at home, not wandering the neighborhoods and stealing from their neighbors. Parents and guardians need to step up to the plate and be responsible for their teenagers," said Flagler County Sheriff Donald W. Fleming.
Flagler County residents are also reminded that with very little effort you can avoid becoming a victim of theft. Motorists should remove all valuables from their vehicles and be sure the doors are locked whenever they are away from the vehicle.
The three are charged with the following felonies: grand theft, burglary of a conveyance, possession of stolen property and possession of burglary tools
The three teenagers arrested and charged were: Valeriy Deyak, 17, 60 Piedmont Drive, Palm Coast; Jake Bock, 17, 42 Pine Haven Drive, Palm Coast, and Leonardo Mironov, 16, 44 Raleigh Drive, Palm Coast. Bock was additionally charged with bringing marijuana into the Flagler County Inmate Facility. All three were released to relatives at the direction of the Department of Juvenile Justice.
Share your thoughts with our readers >>