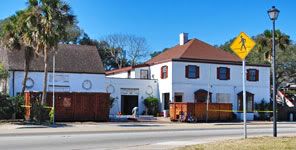 The St. Augustine local news desk has learned that Pat Croce is moving his Pirate Soul Museum from Key West to the former Christmas Shop and Tepee Town site on Avenida Menendez, according to the St. Augustine Report.
Croce, considered an expert on the Age of Piracy, scouted the property during his visit here in December to present Pirates! Fact & Fiction; a program in the 450th First America series.
His $10 million Pirate Soul Museum opened in Key West in 2004, with his collection of some 500 artifacts, coupled with interactive technology.
Work has already begun to convert the St. Augustine properties, nestled between the Colonial Spanish Quarter and Castillo de San Marcos.
While pirates are Croce's passion, he's recognized for pioneering in the sports medicine field, former president of the Philadelphia 76ers, motivational speaking, and is author of books on motivation and piracy.
Photo credit: © 2010 Historic City News photographer Kerry McGuire
Share your thoughts with our readers >>