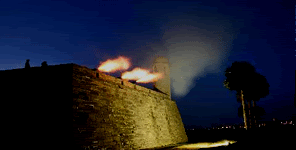 St. Augustine Garrison President Mark Schmitt told St. Johns County local news reporters that the annual La Guardia de Noche (Spanish Night Watch) historical re-enactment will be held this month on March 12th and 13th.
Hosted by the St. Augustine Garrison, the Spanish Night Watch commemorates the events leading up to the 1740 invasion of Spanish Florida by the British colonies to the north.
The weekend's events will begin on Friday, March 12th at 7:00 p.m., at the Castillo de San Marcos with a night-time depiction of actions leading up to and during St. Augustine's siege.
On Saturday, March 13th, beginning at 1:00 p.m., Spanish soldados at the Castillo will demonstrate the military arts of the period. Musket and cannon demonstrations, military maneuvers on the Castillo green, and interpretations of 18th-century daily life in Spanish Florida will be presented throughout the day.
In the De Mesa Yard of the Colonial Spanish Quarter Museum, from 10:00 a.m. until 4:00 p.m., living history settlers will be vending replicas and reproductions of 18th-century wares. In the same location and at the same time, members of the famous Textile Guild of St. Augustine will be demonstrating spinning, weaving, natural dying, lace-making and other textile arts of Florida's colonial past.
At 7:30 p.m. Saturday evening, la Guardia de Noche will culminate in the Spanish Night Watch Military Parade beginning at the Castillo. Military units and civilians will march out of the Castillo's gates to begin a torch-light parade to the Governor's Palace. The Night Watch will first stop at the City Gates, where the guard will be changed, a musket volley fired, and new sentries posted. The Watch will then march down St. George Street to the Plaza de la Constitution for the Blessing of the Flag at the Cathedral Basilica of St. Augustine. The parade will conclude at the Governor's Palace with a salute of musket-fire in honor of the Governor and the King.
Visitors are invited to follow the Governor, soldiers, and townsfolk in the Night Watch parade and celebration.
Entry to Friday and Saturday's activities at the Castillo de San Marcos will be by paid admission. All other Guardia de Noche events, including the Night Watch parade, are free of charge to the public.
This Event is sponsored by The St. Johns County Tourist Development Council, The Castillo de San Marcos National Monument, the City of St. Augustine, and the St. Augustine Garrison. La Guardia de Noche will be re-enacted by members of The St. Augustine Spanish Garrison, a member unit of Florida Living History, Inc.
Photo credit: © 2010 Historic City News contributed photograph
Share your thoughts with our readers >>