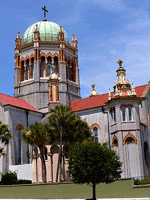 The local St. Augustine news desk has learned that sometime between last Sunday morning and Monday morning at about 9:00 a.m., someone stole two guitars from Flagler Memorial Presbyterian Church.
Police Officer David Tucker responded to the church which is located at 32 Sevilla Street.
According to the report, the complainant told police that someone entered the Fellowship Hall last weekend and stole two guitars worth about $570.
Tucker reported that there was no sign of forced entry or damage to the building.
Community Affairs Officer Barbara Clifford of the St. Augustine Police Department reports that church staff advised them that the hall had been left unlocked by the maintenance man.
Share your thoughts with our readers >>