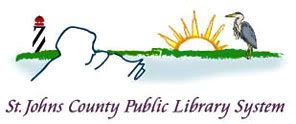 Library director Debra Rhodes Gibson told local Historic City News reporters that the St. Johns County Public Library System will kick off its Third Annual Food for Fines Program this week.
Food for Fines permits patrons to bring one sealed, non-expired, nonperishable food item to the library in exchange for each $1 in overdue fines. The program will run through Dec. 22. Last year, more than 10,000 food items were collected, surpassing the 8,000 items collected in 2008.
All food collected during Food for Fines will be given to the Health and Human Services food pantry for local distribution to those in need. While Food for Fines is a great way for overdue offenders to balance their accounts, the food drive is not limited. The general public is also encouraged to drop off nonperishable food contributions at any library branch through Dec. 22.
Gibson says she looks at this program as a way to give back to the community while also settling library accounts. "In these challenging economic times, more residents are experiencing difficulty paying bills and keeping food on the table," Gibson said. "Area food banks cannot meet local demand for holiday meals, and we hope this program significantly helps that situation."
The Food for Fines waiver is for library fines only and may not be applied to fees for printing or lost items, nor may it be used as credit against future fines.
For more information about Food for Fines or to find a branch library, call library administration at 827-6925 or go to www.sjcpls.org.
Share your thoughts with our readers >>