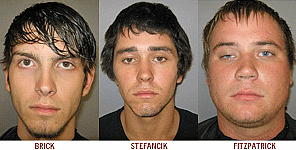 Public Information Officer Debra Johnson told local St. Johns County reporters with Historic City News that three Flagler County men were arrested late Monday evening in connection with a string of vehicle break-ins in Palm Coast.
When residents in the area of Westwind Contracting on US-1 reported hearing loud noises and seeing flashlights at the rear of the building around 11:27 p.m., deputies were called to investigate.
One man was found entering the wood line north of the business while another was found sitting in a vehicle in the parking lot. The third man was found hiding behind a vehicle in the parking lot.
Deputies found seven vehicles parked at the business had been entered and gasoline, tools, binoculars and lift ropes were stolen.
While interviewing the three, deputies found they were also connected to four other vehicle break-ins at McCharacters in St. Joe Plaza in Palm Coast. Deputies recovered a stolen GPS, a purse and a watch that had been stolen in those incidents and numerous items stolen from the business parking lot.
In all, deputies recovered several thousand dollars worth of stolen items.
The three charged are:
Michael Andre Brick, 20, 2345 Blueberry Street, Bunnell
Allen Gary Stefancik, 18, 2161 Fig Street, Bunnell
Sean Ryan Fitzpatrick, 23, whose last known address is 20 Seabreeze Trail in Palm Coast
All three are each charged with nine counts of burglary of an auto, eight counts of criminal mischief, five counts of grand theft and one count of burglary of a structure. Fitzpatrick is additionally charged with felony fleeing and eluding, driving with an expired tag and he had an outstanding warrant for driving with knowledge that his license was suspended. Bond for Brick and Stefancik has been set at $22,500. Fitzpatrick's total bond is $25,000.
"We were able to catch these men in the process of burglarizing vehicles because of the alertness of our residents. We were notified of suspicious activity, we responded quickly and we made three good arrests," said Sheriff Donald W. Fleming.
Share your thoughts with our readers >>