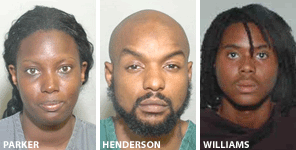 Media Relations Officer Kevin Kelshaw informed Historic City News local reporters that three Jacksonville residents are in custody in connection with the murder of a 45-year old Duval County man nearly two months ago.
The suspects, identified as Harry Lewis Henderson, age 31; Sharina Jadne Parker, age 30; and Rodrick D. Williams, age 16; are charged with the kidnapping and murder of James Vincent Brookins.
Parker and Williams are charged with principal to murder and kidnapping.
The victim was discovered in the trunk of a 2008 Toyota Corolla that was parked on a dirt road off St. Ambrose Church Rd., in Elkton, on April 28th. The victim had been beaten, bound with duct tape and shot.
The investigation revealed that the victim, who was last seen alive in Jacksonville, had been reported missing two days earlier by his mother.
The victim's body was located inside a suspicious vehicle that was connected with his disappearance.
Robbery-Homicide Detectives with the St. Johns County Sheriff's Office worked closely with the Homicide Unit at the Jacksonville Sheriff's Office since most of the incident occurred in Duval County.
Detectives identified and interviewed nearly 100 people over the course of the investigation and served a search warrant at a residence in the 2100 block of Caljone Rd., in Jacksonville. Crime Scene Technicians located evidence that revealed the victim had been beaten by the suspects.
Detectives believe that the motive for the murder is retaliation for an armed robbery that occurred in Jacksonville during a drug transaction earlier in the day.
Initially, individuals involved with the drug transaction believed that the victim was involved in the robbery, however, that was not true.
Detectives also obtained substantial evidence through electronic communications that assisted in identifying the suspects.
The U.S. Marshall's Office was instrumental in locating the three suspects and apprehending them on various charges not related to this investigation. The investigation is continuing and anyone with any additional information is asked to contact Robbery-Homicide Detectives with the St. Johns County Sheriff's Office at 824-8304.
Share your thoughts with our readers >>