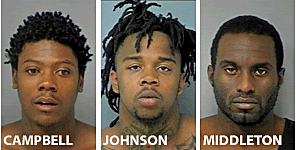 Detectives informed local reporters at Historic City News that they have arrested three suspects in connection with an armed robbery and burglary at the Prime Outlet Mall that occurred early this morning.
The 35-year old male security guard stated that he was sitting in his security truck, at the entrance to the mall, when a small white compact car with four male subjects approached and asked for directions.
One of the passengers got out of the vehicle, brandished a handgun and ordered the guard to get down.
The other three subjects drove to Gucci and used a crowbar to force their way inside. The suspects took an undetermined amount of merchandise from the store.
The suspects removed the keys to the guard's vehicle and took his cell phone then escaped. The guard was able to call the Sheriff's Office.
Deputies located the get-away vehicle traveling northbound on I-95 in the area of the 325 mile marker and began pursuit. The suspects were traveling at a high rate of speed and got off at the CR-210 exit eastbound. The driver lost control of the vehicle as it fishtailed onto Sandy Creek Parkway and the four subjects got out of the vehicle and escaped into the woods.
The vehicle had been reported stolen from Duval County. All merchandise from Gucci was recovered in the vehicle.
At 10:56 a.m., the three suspects emerged from the woods on CR-210 in the area of C.E. Wilson Road and were taken into custody.
The three captured were identified as:
Paul Trimaine Campbell, 28, W 23rd St, Jacksonville,
Tony (NMI) Johnson, 18, 759 Wakefield Ave, Jacksonville
Dwayne H Middleton, 30, 741 Venus Mars Ct, Jacksonville
All three suspects are being charged with Kidnapping, Criminal Mischief, Burglary of a Structure, Grand Theft, Vehicle Theft, Robbery with a Firearm and Obstructing Justice.
A fourth suspect is still being sought and the only description at this time is a young black male.
Anyone with any information is asked to call the St. Johns County Sheriff's Office at (904) 824-8304.
Share your thoughts with our readers >>