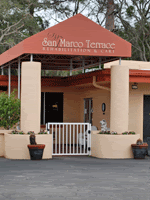 Local Historic City News reporters learned along with members of the St. Augustine City Commission tonight that San Marco Terrace Rehabilitation and Care has been purchased and is slated to be closed by the new owners within two to three years.
Brooks Rehabilitation, a non-profit health system based in Jacksonville, appeared before the commission during public hearing on Resolution 2010-27 seeking approval of a proposed Inter-local agreement between the City of St. Augustine and the Jacksonville Economic Development Commission facilitating project bonding for construction of their new facility and consolidation of the St. Augustine facility — in south Duval county.
Introduced by City Attorney Ron Brown and following an executive summary by consultant Kerry McCarthy, speakers from Brooks explained that they purchased the five-star rated San Marco Terrace from Tampa based Senior Care Group, Inc.
According to Brooks Rehabilitation, Doug Hernandez, Administrator of San Marco Terrace, has done an excellent job — as has his staff. The San Marco facility, originally known as Gilmer's Nursing Home, has been part of the community for many years.
Commissioner Errol Jones was reluctant to approve the resolution over concerns about what will become of the property and more than a dozen employees who work there.
McCarthy extolled the reputation enjoyed by Brooks Rehabilitation Hospital, Brooks Outpatient Rehabilitation, Brooks Center for Rehabilitation Studies and Brooks Home Care Advantage.
Brooks has not been in the business of housing for the elderly and infirm. Their representatives said they purchased the property from Senior Care Group to learn more about that area of continuing care.
However, the company owns land planned for development in Jacksonville's southside. They knew when they bought San Marco Terrace that they would not be keeping the St. Augustine location over the long term.
Hernandez, who has been asked to continue on with Brooks, said "We just keep asking for excellence from our staff and they come through. Compassionate care is given by all our staff, from our nurses to our rehabilitation staff to our housekeepers."
San Marco Terrace is presently ranked in the top 10% of all nursing facilities in the country according to the Centers for Medicare & Medicaid Services; a division of the U.S. Department of Health and Human Services.
Brooks says that they are offering additional insurance benefits to St. Augustine employees and will offer continuing education over the next two to three years with hopes that San Marco Terrace employees will relocate or commute to the new Jacksonville facility. "If they don't, employees will still have better training and continuing education that will make it easier for them to find other jobs."
After public comments and commissioner discussion, the Resolution was approved 5-0.
Photo credit: © 2010 Historic City News photographer Kerry McGuire
Share your thoughts with our readers >>