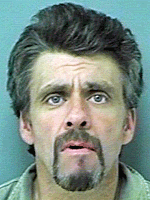 The local St. Augustine news desk has learned that Saturday evening, Police Officer William Moltimore responded to a tip concerning the whereabouts of a wanted man who was supposed to be located on Hope Street.
In verifying the tip, a computer check revealed that Joseph Williams of St. Augustine, had an outstanding warrant in St Johns County for violation of probation.
Upon arrival on the scene, Moltimore knocked on the door to the residence and a white man, later identified as Williams, answered the door and told the officer "Williams is not home."
Moltimore asked Williams for his identification. Williams stated that his name was "Ralph McDonald" and that he did not have an ID.
Moltimore asked Williams for his Social Security number. Williams recited a false number with too many digits.
A backup officer arrived on the scene and recognized Williams from his picture. Williams was then placed into custody.
According to the report, Williams gave the officers consent to search his person for weapons. When Moltimore patted Williams down, he felt what appeared to be contraband in his front pants pocket. Williams reached in and pulled out 2 baggies of marijuana.
Officers also found 4 pills (2 zanax, 2 oxycodone) inside his shirt pocket. Williams did not have a prescription for those pills.
Community Affairs Officer Barbara Clifford of the St. Augustine Police Department reports that Williams was charged with possession of marijuana (less than 20 grams), possess of prescription medicine without a prescription, possession of drug paraphernalia, and giving a false name to a law enforcement officer.
Share your thoughts with our readers >>