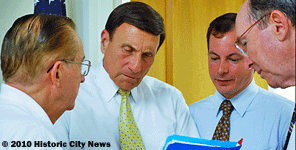 Guest speaker U.S. Representative John Mica spent time with St. Johns County Republicans and guests during last night's barbecue and political rally; attended by some of Florida's top Republican leaders and candidates.
Through the joint efforts of several St. Johns County Republican organizations, the Republican Club of Greater St. Augustine coordinated the event that saw about three hundred participants over the course of the evenings activities.
Becky Reichenberg, Republican State Committeewoman, was master of ceremonies; shuffling candidates and elected officials through the serving line and the speaker's podium. American Made donated their musical talents for the event and entertained the capacity crowd through the evening.
St. Johns County Republican Executive Committee members in attendance included Harlan Mason, Chairman; Brian Iannucci, Second Vice Chairman; Cheryl Howell, Corresponding Secretary and Robert Veit, Treasurer.
Volunteers from St. Johns County Federation of Republican Women, Republican Club of NW St. Johns County, Republican Club of Ponte Vedra Beach and the St. Johns County Young Republicans all pitched in to ensure that a good time was had by all.
In addition to Congressman Mica, the rally included speeches from Florida Representatives Bill Proctor of St. Augustine and Ronald "Doc" Renuart of Ponte Vedra Beach as well as Florida Senator John Thrasher — who also serves as Chairman of the Republican Party of Florida.
Gary Bruce, President of the Republican Club of Greater St. Augustine, said that he was encouraged to see so many local Republicans participating in this event. "Our club is growing and we think it is because we have something valuable to offer to our community," Bruce said. "We are a group of individual thinkers who share a common belief in the principles of the Republican Party — fiscal restraint, a strong defense, individual liberty, lower taxes and an economy that can create more jobs.
Photo credits: © 2010 Historic City News staff photographer
Share your thoughts with our readers >>