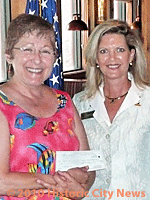 Kizzy Van Tine reported to Historic City News that Renee Morris, Executive Director of the St. Francis House, was presented a check by Christine Rich during the June 3rd meeting of the St. Augustine Regional Chapter of the Women's Council of REALTORS®.
Rich, who is President of the Council, said during the Business Resource Meeting held at Carrabba's, that the 96 golfers, 23 sponsors, and 20 volunteers who participated in last month's 6th Invitational Golf Tournament at Marsh Creek Country Club, enjoyed a picture perfect event while networking and enjoying a day of golf.
This annual tournament benefits the education of Council members and includes a donation of part of the funds to a local charity.
The mission of the St. Francis House is to create an atmosphere and lifeline of hope that minimizes the suffering of the homeless and the less fortunate.
The Women's Council of Realtors® currently has 110 members locally, almost 18,000 members nationally and is ranked 12th out of the top 30 Women's Business Professional Associations by the National Business Women's Network.
Photo credits: © 2010 Historic City News staff photographer
Share your thoughts with our readers >>