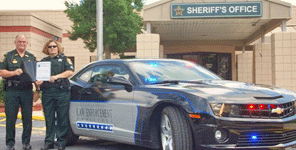 Members of the St. Johns Sheriff's Office Traffic Unit traveled to Orlando last Friday to attend the Florida Law Enforcement Challenge Awards Ceremony, and returned home as winners of a 2010 Chevrolet Camaro Police Cruiser.
The Florida Law Enforcement Challenge is a competition between similar size and types of law enforcement agencies, which recognizes and rewards the best overall traffic safety programs in the state. The areas of concentration include efforts to educate the public and enforce laws regarding occupant protection, impaired driving, unsafe speeds, and other areas of traffic safety concerns.
Agencies submit an application that documents their efforts and effectiveness in these areas. The winning safety programs were those that combine officer training, increased public awareness through public information outreach and enforcement efforts to reduce crashes and injuries within their respective jurisdictions.
Members of the Unit were awarded a certificate recognizing the Sheriff's Office as first place winner in their respective category and were given an opportunity to win a 2010 Chevy Camaro for their efforts. Each of the agencies who were selected drew a key from a fishbowl and attempted to start the vehicle. Corporal Robin Juratovac drew the key that won the car for SJSO. The Camaro which was presented equipped for duty is emblazoned with the logos of the Law Enforcement Challenge and will be placed into service with The Traffic Enforcement Unit soon.
This program is financed through grants from the Florida Department of Transportation (FDOT) and the National Highway Traffic safety Administration (NHTSA). St. Johns County Sheriff David Shoar, said "it is well known that an increase in traffic enforcement in a community results in a decrease in motor vehicle crashes, injuries, and fatalities".
Share your thoughts with our readers >>