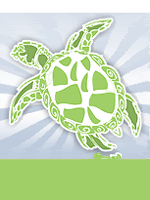 St. Johns County has asked Historic City News readers for their help and participation in this year's Sea Turtle Washback Program.
Sea turtle nesting season has resulted in 677 sea turtle nests, a 205% increase over last year's number of 270. With such a large number of sea turtle nests, it is imperative that St. Johns County has adequate volunteers to assist in making sure the sea turtles get proper assistance
Volunteers are called upon to survey the wrack line for washbacks and transport the sea turtles to a rehabilitation facility in Volusia County. The wrack line may form at any time, and the volunteers are placed on call and contacted when it is time to complete a survey. Each volunteer is equipped with a volunteer t-shirt, gloves, data sheets, towels, buckets for carrying the washbacks, and water.
If you are interested in volunteering, please attend one of the scheduled training sessions located below. Pre-registration is required as space is limited.
• Saturday, August 7th from 10:30 am-12 pm
Ponte Vedra Beach Branch Library
101 Library Blvd
St. Augustine, FL 32082
• Monday, August 9th from 6-7:30 pm
Main Library
1960 N Ponce De Leon Blvd
St. Augustine, FL 32084
• Saturday, August 28th from 10-11:30 am
Anastasia Island Branch Library
124 Seagrove Main Street
St. Augustine, FL 32080
The volunteer training will last for approximately one hour. For more information on how to register, contact Habitat Conservation Coordinator Tara Dodson at (904) 209-3740.
Share your thoughts with our readers >>