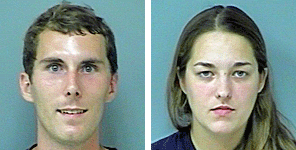 Historic City News local crime patrol reporters learned that two suspects have been arrested by St. Augustine police in connection with the burglary of a North City building and theft of two air conditioner compressors.
According to police, while on routine patrol, Sergeant Jason Etheredge noticed that the air conditioner compressor units for two rooms in the 2800 block of North Ponce de Leon Boulevard were missing.
Several hours earlier, Etheredge checked the property and recalled seeing the units.
Police checked the immediate area and found 22 year-old Roger Wayne Hendricks hiding in a room and 18 year-old Heather Denise Taylor hiding behind a stairway column of the building where the theft occurred.
The investigation uncovered one of the units found in the trunk of Hendricks' vehicle — the other unit was located in the room where Hendricks was hiding.
Both Hendricks and Taylor were taken into custody. Hendricks, who resides at 871 Cypress Rd in St. Augustine, was charged with burglary and attempted grand theft. He remains in jail in lieu of $4,000 bond.
Taylor, who resides at 418 Orchis Rd in St. Augustine, was charged as a first degree principal to grand theft. She was released from custody the same day on a $1,000 appearance bond.
Community Affairs Officer Barbara Stevens of the St. Augustine Police Department reports that both suspects admitted that they attempted to take the air conditioner compressor units. "Their plan was to sell the metal in the units for money," Stevens said.
On December 6th, 2009, Hendricks was arrested by Sheriff's deputies on charges of possession of drugs and narcotic equipment.
Share your thoughts with our readers >>