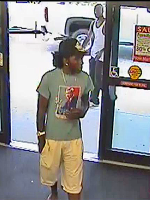 Historic City News asked for your help in locating two men in connection with a strong armed robbery of an 86 year-old woman last week and now, two suspects in that crime have been identified.
The incident occurred at 12:45 p.m. last Wednesday at Hobby Lobby in the Riverside Centre located at 200 SR-312.
The elderly victim reported that as she came out of the store, the two men approached her and one of them grabbed her purse. The victim told deputies that she attempted to retain the purse, but the suspect snatched it from her grasp causing the strap to tear. The two men fled on foot.
When robbery detectives began their investigation, they were led to a possible suspect who matched the description of a man wanted in a robbery in West Augustine nearly a month ago. That suspect, identified as Joshua Obadiah Kirkley, 19, 48 Crookshank Drive, was positively identified by the victim of the robbery in early September and an arrest warrant was obtained.
Kirkley was arrested Friday evening by deputies on that warrant which carried a $100,000 bond. Kirkley was served the second warrant for the strong armed robbery yesterday afternoon. That warrant carries a $10,000 bond. It was also believed that Kirkley can be seen in the surveillance video during the Hobby Lobby robbery wearing a necklace that was allegedly stolen in the West Augustine robbery.
The second suspect was located in Volusia County Saturday. He is identified as Alan Lamar Jackson, 32, 2 Christopher Street in St. Augustine, and was found in a stolen vehicle that had been reported to St. Augustine Police. According to the victim, Jackson is the man who grabbed her purse. The charge of "robbery by sudden snatching" requires an appearance bond of $100,000.
Share your thoughts with our readers >>