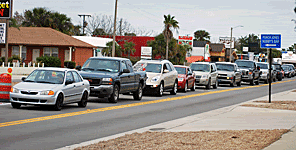 The Historic City News local St. Augustine news team received word from police spokesperson Barbara Clifford that the newly re-opened Bridge of Lions has already failed.
At lunchtime today, about 12:30 p.m., it was reported that one of the bridge's leaves would not connect correctly to the other leaf — forcing the bridge tender to shut the bridge down. Traffic was backed up for a mile on either side of the bridge.
Traffic westbound was diverted to SR-312 as workers attempted to correct the problem. When first reported, it was unknown how long the remodeled bridge would be closed.
Approximately an hour later, workers were able to repair the draw-span which appears to be working correctly at this time. Traffic across the bridge has been allowed to pass.
Photo credit: © 2010 Historic City News photographer Kerry McGuire
Share your thoughts with our readers >>