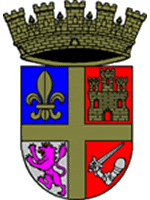 Historic City News reporters have received advance word of two high profile issues that will be covered in tonight's regular meeting of the St. Augustine City Commission — a Memorandum of Agreement with the University of Florida and a land package for a Castillo Orientation Center.
According to information included in Friday's St. Augustine Report, after months of negotiation, the city and the University of Florida have reached an agreement in which the city will continue management of the Colonial Spanish Quarter, part of the 34 state-owned historic properties here the state legislature turned over to the university to manage.
A Memorandum of Agreement to be considered by the City Commission tonight does not leave Government House under city management, as was hoped. The agreement "acknowledges the City's desire to use the Government House for 450th Commemoration events and other community functions."
The City's public affairs publication states that traditional city events such as Noche de Gala, British Night Watch, Twelfth Night Ball, Spanish Night Watch, and Nights of Lights ceremonies will continue, as well as visits by foreign dignitaries and delegations.
Under the agreement, the city will vacate Arrivas House, Rodriguez House, Coquina House Warehouse, and Government House on a timetable to be mutually agreed upon . . . or (the city) shall enter into a lease and begin paying a competitive property rent at a rate to be mutually agreed upon by the parties.
The agreement will automatically renew annually, subject to annual review by the university and city.
A package of state-owned and city lands in the Colonial Spanish Quarter for a Castillo Orientation Center will also be aired tonight, following negotiations with a state advisory panel taking the city out of obligations on the state-owned land.
Earlier concern was that the state Internal Improvements Trust Fund might want the city to either replace the land or pay its $588,000 appraised value. Assistant City Manager Tim Burchfield says the trust fund advisory committee has agreed to recommend a direct land transfer without involving the city.
The Governor and Cabinet will meet Tuesday to act on the request.
The city and state each own about a half acre of land which, if transferred to the National Park Service, can make the Castillo orientation center possible.
Congressman John Mica confirmed at an Economic Summit meeting last week that he will try to include $4 to $5 million in appropriations before the federal budget deadline October 31st. Commissioners tonight may agree to a contract on the city land with a reverter clause similar to the one being used by the state; in which the properties will revert back if funding for the orientation center fails.
Share your thoughts with our readers >>