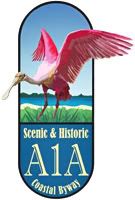 Historic City News learned that the Friends of A1A Scenic and Historic Coastal Highway have awarded two contracts that will add a cell phone tour and interpretative signage to encourage traveler exploration of the 72-mile corridor through St. Johns and Flagler counties.
"These projects will allow travelers to learn more about the Byway as they discover A1A," said Sallie O'Hara, Administrator of the Friends of A1A. "Five bids were received for each of the projects, which show the enthusiasm and interest in these ventures in our community."
Q Media Production, Inc. of Winter Garden was awarded a contract to design and implement an interpretive cell phone tour that will be accessible at all points along the A1A Byway by using the latest cell technology. At each of the 45 selected destinations, visitors will be able to dial a pre-recorded message featuring a few facts of significance regarding the resource.
"Our team of volunteers is striving to offer little known facts about a well known array of resources," O'Hara said. "We want the visitor to be excited to discover what few people know about our area, using our inside scoop of local knowledge."
The tour will be available to visitors in English and Spanish and accessible 24 hours a day, 7 days a week by calling a publicized number. Visitors are encouraged to be at the location when on their cell phones and not driving the Byway. Rack cards, maps and website download availability are planned.
In the second project, AECOM of Orlando was awarded a contract to prepare a plan for consolidating six existing wayfinding plans into one comprehensive master plan for a Byway Wayfinding Sign System. The St. Johns County Wayfinding Master Plan will serve as the model for interpretive signage, incorporating the Byway logo, design, style and exact placement of directional signs, signs to Byway features and orientation kiosks. At least 12 public meetings will be held in order to encourage community input and the consultant will also meet with the two counties and the five municipalities along the Byway.
"This coordinated signage system will improve visitor satisfaction and encourage traveler exploration of A1A as a "get-a-way" place," O'Hara said. Funding for both projects is being provided by grants from the Federal Highway Administration's National Scenic Byway Program.
Friends of A1A is in the process of applying for more grant funds through the VISIT FLORIDA Culture Heritage and Nature Tourism Grant Program for the creation of additional collateral materials such as area brochures for travelers and video marketing tools.
Friends of A1A Scenic and Historic Coastal Byway are a non-profit organization that protects, preserves, and enhances resources along the A1A National Scenic Byway. This citizen's advocacy group partners with municipalities, governmental agencies and other civic groups to maintain and improve resources along the corridor. Designated in 2002, the Byway is rich in history, nature, archeology, culture, scenery and recreation. The Friends of A1A's efforts benefit residents and travelers alike by maintaining the identified intrinsic resources while allowing economic development.
New memberships are always welcomed. To join Friends of A1A, please visit www.scenica1a.org and complete the membership application.
Share your thoughts with our readers >>