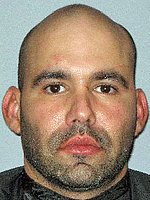 The Flagler County Sheriff's Office alerted Historic City News today that a Palm Coast man is facing aggravated assault and false imprisonment charges following a Tuesday afternoon altercation with his girlfriend — the second domestic relationship case to turn violent in less than three days.
Flagler County Sheriff's deputies have charged Yoel Delgado, 30, 146 Parkview Drive, with felony battery and tampering with a witness as well as resisting arrest without violence. He is also wanted in Arkansas as a fugitive from justice.
The 39-year-old victim said when she arrived at Delgado's residence around 1 p.m., the two began to argue and she told him she needed some time away from him. Delgado told her that she wasn't going to leave him. The victim said he then grabbed a knife off the kitchen countertop with one hand and her shirt with the other, saying he'd prefer to see her dead rather than with someone else.
Delgado then told the victim that she was going with him and pushed her toward the bedroom closet, telling her to get some clothes and shoes. The victim said at that time Delgado told her he was going to kill her and throw her body into a river. The man then directed the victim to take her clothes out of the room but as she proceeded to walk, he grabbed another knife and grabbed her by her hair and dragged her towards the kitchen where he grabbed the keys to the house and vehicle.
The victim said she tried to push away from Delgado, but she fell and scraped her knee. Delgado then threw her on the couch and began strangling her until she nearly lost consciousness. The victim was able to scratch his face and when Delgado let her go, she was able to run out the door to a neighbor's house to contact law enforcement.
Deputy Jon Welker responded to the scene and located Delgado walking on Pennsylvania Avenue. The deputy reported Delgado had a key chain in his hand that contained a pepper spray canister. When Deputy Welker tried to stop the man and ordered him to drop the key chain, Delgado ignored him and began running southbound. The deputy continued the foot chase and ended up wrestling Delgado to the ground in the area of Parkview Drive where he held him until backup units arrived.
Delgado was being held in the Flagler County Inmate Facility without bond.
"In less than three days, two domestic relationships have turned violent. The circumstances and causes surrounding domestic violence varies in each situation. There are programs available to help individuals who are experiencing an increase in violent or abusive behavior from their spouse or companion. Seek help before things escalate to this level of violence," said Sheriff Donald W. Fleming.
Share your thoughts with our readers >>