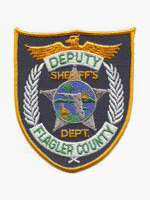 Public Information Officer Debra Johnson reported to local St. Johns County news reporters that deputies in Palm Coast are investigating two armed robberies that occurred this weekend.
Deputies responded to a report of a robbery around 8:30 p.m. Friday at Ralph Carter Park on Rymfire Drive. Deputies were called back to the park around 8:30 a.m. Saturday in response to a second armed robbery.
In both instances, the robber was reported to have brandished a gun at the victims. The robber, described as a black male, then fled the scene by jumping over a park fence. The robber was wearing a black shirt, black pants and a dark ski mask. He is believed to be about 16-years-old.
In the Saturday morning incident, the robber struck a park visitor on the head and stole an Iphone. Friday night, the robber stole a wallet which was later recovered in a wooded area near the park.
"We are asking residents in that area to extra observant and report any suspicious vehicles or people in their neighborhoods," said Sheriff Donald W. Fleming.
Special Services Captain Mark Carman, Flagler County Sheriff's Office Palm Coast Liason, reported that Corporal Don Apperson has been sent a copy of the incident report for dissemination to school resource deputies at the Rymfire School as an additional precaution for teacher and student safety.
In an e-mail to the Palm Coast city council members yesterday, City Manager Jim Landon wrote, "The security cameras just became a top priority for Ralph Carter Park."
Anyone with information on either of these incidents is asked to contact the Flagler County Sheriff's Office at (386) 313-4911 or Crimestoppers at 1-888-277-TIPS (8477).
Share your thoughts with our readers >>