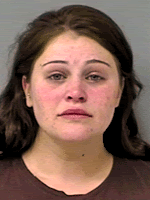 The local St. Augustine news desk has learned that at about 7:30 Wednesday night, Police Officer Michael Linsky responded to a domestic disturbance call on Kings Ferry Way involving a two year-old child.
The complainant advised police that he and his girlfriend, 26 year-old Jennifer Michelle O'Connor, got into an argument that night over his 2 year old son.
In the course of the argument, the girlfriend is accused of becoming "furious" and biting the man on the hand. O'Connor reportedly "punched him in the face"; breaking his glasses.
When the victim attempted to call 911, O'Connor grabbed the phone, ran into the kitchen, grabbed a knife, and came after him with it; according to the police report.
Panicked, the man ran out of the house and called the police from a neighbor's house.
While on the scene, Officer Linsky observed a deep bite mark on the complainant's hand as well as noticed the pair of broken glasses on the victim's floor.
Police contacted O'Connor at 122 Kings Ferry Way in Lincolnville and she was taken into custody; facing third degree felony charges for aggravated assault with a weapon, third degree felony charges of obstructing justice and first degree misdemeanor charges of battery.
O'Connor was released on 02/18/2010 under $1,500 bond.
Department of Children and Families was notified; due to the fact that the two year-old was home at the time of the fight.
Community Affairs Officer Barbara Clifford of the St. Augustine Police Department reports that the 2 year-old was not injured.
Share your thoughts with our readers >>