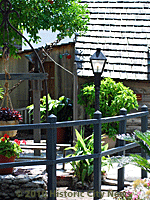 The University of Florida assumes the management of 34 state-owned historic properties in St. Augustine on Thursday and incoming City Manager John Regan has received a nod from the commission to continue efforts towards "building bridges" with them.
According to City Attorney Ronald W. Brown, the state legislature has legally transferred management of the properties to the university including the rights to collect rents, admissions, receive grants or other income — rights which the city has enjoyed for the past 12 years.
In exchange, the university assumes the responsibility for maintenance and repairs of the buildings which continue to be owned by the Board of Trustees of the Internal Improvement Trust Fund.
The city wants to continue development of the Spanish Quarter using state-owned land and including about a half acre of city-owned land. The city's Heritage Tourism Department has a vision for the property owned by the city that runs along Avenida Menendez; that it, and the Spanish Quarter, should be preserved as a living museum. The university has expressed a different vision.
"Tenants in the various historic properties have been told to pay their rent to the University as of Thursday," Brown said. The city has taken a position that the university is required by the 2007 statute to cooperate with them in the transfer of management for the properties. Regan and Brown are expected to negotiate the formation of a working partnership when university officials arrive in St. Augustine in the next few days.
Those who support the transfer of management to the university feel that the City has never made money collecting rents on these properties and they don't have the ability to do so in the future.
Those who support the City keeping the properties feel that, with the addition of a now available $650,000 annual contribution from the State, the rents could make the properties self-sufficient.
The 500 pound gorilla in the room, of course, is the lump-sum estimate of $27 million needed to make essential repairs to bring the properties up-to-par. University of Florida's Vice President for Business Affairs, Ed Poppel, said repairs to Government House alone may cost $14 million.
The university has been in communication with the National Park Service and says that they have received a $5 million commitment from NPS to be combined with matching state funds to finance a $10 million Visitor Orientation Center — proposed to be built across from Castillo de San Marcos, and, from all appearances, the University of Florida is holding all the cards.
Historic City News reporters will continue to watch this situation as it develops in the coming days.
Photo credits: © 2010 Historic City News staff photographer
Share your thoughts with our readers >>