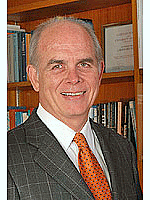 The invitation begins, "University of Florida President Dr. J. Bernard Machen cordially invites you to a celebratory evening in Historic St. Augustine."
Honestly, I get quite a few invitations to attend one "celebratory evening", or another … I don't attend most.
But, I have a grown son and daughter who are University of Florida alumni — and this invitation commemorates something special.
After first pushing Dr. Bill Proctor to usher through legislation that would take away management (and income) of 34 state-owned properties here, City of St. Augustine Mayor Joe Boles started backpedaling once it became clear that the Florida legislature was going to release funds for overdue maintenance and repairs. What followed was a tirade of headstrong saber-rattling — after all, Boles is a lawyer. Then, franticly trying to negotiate back something that he had already given away, the announcement comes from on high that the City has reached an accord with the University about the properties in the Spanish Quarter.
Right.
So now the President of the University is inviting me to attend a two-venue commemoration, sponsored by the University of Florida's Vice President for Business Affairs office and the University of Florida Alumni Association, to celebrate the fact that yesterday was the last day of income for the City from 34 historic properties, and, as of today, the City is merely a preferred tenant with priority status on the University of Florida's calendar for special occasions at the Government House — six or eight times a year.
By the way, from my reading of the recently released Memorandum of Understanding, our continued presence and tenancy on the state's Colonial Spanish Quarter property, now managed by a direct service organization of the University, will only be sustained so long as the City meets certain financial and historical performance standards that shall be audited at least annually. The University intends to audit the city on maintenance, custodial care and a matrix of both qualitative and quantitative measurements. Of course, we were kind of dropping the cannonball on that when we were collecting the rent on all those properties, so let's hope for the best.
I haven't made up my mind if I want to attend the October 20th ceremonies at the Government House and Casa Monica Ballroom. You can tell Mayor Boles isn't in charge anymore; there won't be any tuxedos, gilded crowns or mink stoles. The University is calling this celebration the "Gator Gala" — dress is only "business attire".
Share your thoughts with our readers >>