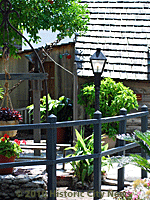 In recent weeks there has been a clear sense of uncertainty around City Hall over the consequences of the July 1st takeover of 34 state-owned historic properties in St. Augustine, now managed by the University of Florida.
Before taking office as St. Augustine's new City Manager, John Regan indicated to the city commission that Representative Bill Proctor might sponsor modifications to the state legislation that authorized the UF takeover "if the university and City can work out our differences."
In 2007, St. Augustine Mayor Joseph L. Boles, Jr. wrote to the Governor and described the legislature's passage of the law as "a move that will help safeguard Florida's most important historical resource; the City of St. Augustine."
But, in what he called a "complete turnabout", Representative Proctor says that only a few short years ago, the City was begging me to get this accomplished. And, it appears, Proctor delivered exactly what he was asked — HB-851 and SB-2404 did not receive a single vote in opposition in any committee hearing or during either floor vote.
After talks broke down between the Mayor, staff and university leaders, what originally looked like a possible solution to the controversy, turned out to be an overly optimistic and, in fact, unrealistic expectation.
As the June 30th lease expiration drew closer, the business owners operating in the historic state-owned properties, previously managed by the City of St. Augustine, began accepting that surrender by the University of Florida wasn't going to happen.
So, the date came and went. As recently as two weeks before Monday night's regular City Commission meeting, there were rumblings that the City was considering bringing a lawsuit against the University if they persisted in taking over management of the buildings.
But, speaking before the commission, this time in his capacity as City Manager and paraphrasing a note from University of Florida Vice President Ed Poppell; sent to City Heritage Director Dana Ste. Claire, Regan told commissioners, "I'm genuinely excited in our ability to put together a partnership that will advance the cause of historic preservation."
Poppell had been in St. Augustine last week — during which time he made visits to the Spanish Quarter and held negotiations to form a city-university management agreement.
"(Poppell) said he can't believe what we're doing in the Spanish Quarter," Regan said. "Wares made in the quarter being sold in the gift shop, the interpretive stations manned. He saw some great improvements."
City Attorney Ronald W. Brown told Historic City News that "lawsuit or not, eventually the university and the City will have to come to terms." At this point, negotiations are continuing with hopes that the City will continue management of the Spanish Quarter and Government House.
Photo credit: © 2010 Historic City News staff photographer
Share your thoughts with our readers >>