Historic City News local reporters joined area law enforcement officers and state law enforcement agents this morning who are combing a vacant field-turned-crime-scene; behind the Wingate by Wyndham hotel on SR-16 just west of I-95.
At approximately 8:00 a.m., the dead body of an unidentified white man was located at the scene by Florida Department of Law Enforcement agents.
According to SJSO Sergeant Chuck Mulligan, detectives with the St. Johns County Sheriff's Office and FDLE agents are investigating the unidentified body.
Just before lunch today, Lt. Kenneth Moore, Chief Investigator for the District 23 Medical Examiner's Office, arrived on the scene. Dr. Terrence Striner will perform an autopsy to determine the exact cause and manner of death.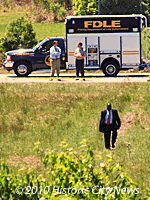 Authorities are not yet saying whether or not foul play was involved, however, everyone is treating the discovery as a homicide — until informed differently.
Preliminary findings and the identity of the remains may be available in the next few days.
A yet unidentified law enforcement agency, not the St. Johns County Sheriff's Office, had been cooperating with FDLE in an ongoing case in their jurisdiction, when information was developed which led them to look for evidence in a particular area of trees situated on the lot.
The FDLE crime scene unit is processing the scene.
Photo credit: © 2010 Historic City News staff photographer
Share your thoughts with our readers >>