Local St. Johns County crime patrol reporters with Historic City News have been alerted that an arrest warrant has been issued for 26 year-old Joseph Dean Roberts — charging him with grand theft of the automobile belonging to Brittany Jeniveve Tavar; who has been missing for two weeks.
Roberts, who is a transient with no known home address, was last seen with Tavar during the time frame of her disappearance. Roberts told Tavar's neighbors that he was Tavar's nephew — that is not true according to family members contacted by the Sheriff's Office.
Tavar, along with her 2004 dark blue Toyota Rav4 and her two dogs are missing from her residence.
45 year-old Tavar was last heard from by a close friend at 12:00 p.m. on July 6th. She has been missing from her home on South Beach Drive for the past two weeks. She is described as a white female, 5'7" tall, 120 pounds with green eyes and blonde hair.
The investigation has revealed that one of Tavar's dogs was located in Hopkins, South Carolina on July 10th at 4:00 p.m. A witness spotted a dog chasing a vehicle and took it to a local veterinarian. A micro chip was scanned that identified Tavar as the dog's owner.
The following day, a police officer at the Evanston Police Department in Wyoming, conducted a traffic stop on Tavar's vehicle. At the time, she had not been reported missing and Roberts, who was driving, was given a verbal warning for excessive speed. Police say Tavar was not in the vehicle at that time.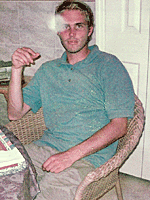 Roberts has been arrested on two occasions over the past two years. He was arrested on a retail theft charge at Wal-Mart on February 20, 2009 and was arrested on March 19, 2010 at an abandoned house in the 6600 block of U.S. 1 South. He was charged with retail theft for being in possession of two DVD's belonging to the St. Johns County library and possession of drug paraphernalia.
A Nationwide alert has now been issued for Roberts and Tavar as the investigation continues.
Tavar's family is offering a $25,000 reward for information leading to the arrest of Roberts. Anyone with any information concerning this investigation is asked to contact Detectives George Harrigan or Charles Brantley at the St. Johns County Sheriff's Office at (904) 824-8304
Share your thoughts with our readers >>