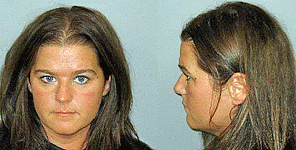 Public Information Officer Debra Johnson told local St. Johns County reporters with Historic City News that deputies in Flagler County have arrested a 30 year-old Palm Coast woman yesterday afternoon and have charged her with abusing a one year-old boy left in her care.
Christina Cinelli-McFall of 35 Pitt Lane was being booked into the Flagler County Inmate Facility late Friday on a warrant charging her with aggravated child abuse, however, she was released after posting a $25,000 appearance bond.
Sheriff's Detective Cpl. Kim Davis filed charges stating that while the infant was at McFall's unlicensed home daycare, known as "Chrissy's Cottage", he suffered head injuries that were consistent with trauma from a blunt instrument or having been shaken or a combination of both.
The injuries were so extensive that the boy was hospitalized for more than a month in a Jacksonville hospital and will require further medical procedures.
The incident occurred on July 16th.
Investigators said the state Department of Children and Families has closed the daycare and McFall is no longer allowed to offer daycare services of any kind. At the time, McFall was caring for four other children, all over the age of one.
"The detectives did an excellent job in pursuing this case. This woman's actions resulted in tragic consequences for this baby," said Flagler County Sheriff Donald W. Fleming.
Anyone with additional information about this crime is asked to contact the Flagler County Sheriff's Office at (386) 313-4911 or Crimestoppers at 1-888-277-TIPS (8477).
Share your thoughts with our readers >>