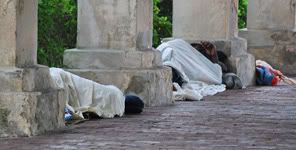 Discussion continued at the St. Augustine City Commission meeting last night as Historic City News listened to what sounded somewhat like a stale re-hash of already evaluated proposals for the local homeless problem — without getting much closer to a solution.
Former Mayor George Gardner asked commissioners to reconsider a homeless shelter proposal utilizing a 42,000 square foot industrial building on Dobbs Road that he says is presently in foreclosure.
City Manager John Regan says that he is concerned about what costs the City will bring upon itself in an expanded shelter and says that he is uncertain what contribution will be made by the county or state, if any.
Without saying what would be affordable, Regan said Gardner's proposal "would be too expensive" estimating the 42,000 square foot building project to be "a $10 million program".
Regan recalled for commissioners that, three years ago, a pilot program provided additional beds for the homeless at the St. Francis Shelter which resulted in temporary housing for 322 persons in just one week.
In the 2007 pilot program, the city paid St. Francis Shelter $15,000 for three weeks to provide additional bed space. Armed with an available "alternative shelter", City Attorney Ronald W. Brown says that police officers could then evict vagrants that were sleeping in the Plaza.
"Those placements resulted in 111 job referrals, eleven photo ID's being issued, twenty-two bus tickets and tokens for family reunifications, as well as twenty-two substance abuse and forty-six case management referrals," Regan said.
According to Regan's assessment, "the program was a success" but could not be continued because the St. Francis Shelter has inadequate fire protection.
For some time, a relocation effort which includes a 7,000 square foot two story building with sixty-six beds has been underway by the non-profit foundation that operates the St. Francis Shelter.
The existing county building that formerly housed firefighters and served as a fire station, off South Dixie Highway, is the latest target to become the new home for the St. Francis Shelter.
Regan suggested that if St. Francis Shelter was successful in acquiring the South Dixie Highway property, the city should consider a new arrangement with them that is similar to the 2007 pilot program — predicting that the city would likely duplicate the success of the former program.
Photo credits: © 2010 Historic City News staff photographer
Share your thoughts with our readers >>