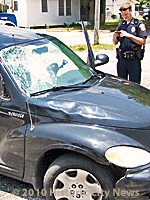 Local Historic City News reporters were notified that three bicycle riders have been sent to the hospital — two by helicopter with head trauma — after they were struck by a PT Cruiser this afternoon.
The black 2005 PT Cruiser was driven by 42 year-old Michael Richard Nally, who was traveling northbound on Ponce De Leon Boulevard.
The three bicyclists, Derick Tillman, Robert Jolley, and Daniel Phillips, were traveling in the same direction when Nally's vehicle ran into the group. The impact sent all three bicyclists airborne and off their bicycles.
According to witnesses, Nally was observed throwing a beer out of his window.
After he swerved into the three bicyclists, Nally continued driving and left the accident scene. A witness followed Nally and called police to report his location. Police conducted a traffic stop of the PT Cruiser in the parking lot of Arnold's Bar.
Nally was taken into custody and charged with three counts of leaving the scene of an accident with bodily injury. Nally's blood was drawn and sent to the FDLE forensics lab to determine his alcohol content at the time of the collision.
All three bicyclists were wearing their helmets. Jolley and Phillips were transported by Life Flight to Shands Hospital in Jacksonville with possible head injuries. Tillman was transported to Flagler Hospital with non-life threatening injuries.
Community Affairs Officer Barbara Clifford of the St. Augustine Police Department reports that the investigation is ongoing and DUI charges are pending results of the blood examination..
Photo credit: © 2010 Historic City News SAPD contributed photograph
Share your thoughts with our readers >>