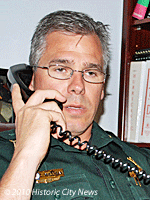 St Johns County Sheriff's Office Public Information Officer Chuck Mulligan reported to Historic City News that a Virginia man was thrown off of a moving golf cart in a Vilano Beach subdivision yesterday; sustaining life threatening injuries.
31 year-old Christopher Chaplin was transported by Air-Ambulance to Shands Hospital Jacksonville with head trauma injuries sustained when he apparently struck his head on the pavement during the fall.
Chaplin reportedly was standing on the back of a golf cart being operated by 48 year-old Dorothy Murrell Donald; who resides on Coastal Highway. Traffic Unit investigators say that Donald was driving the golf cart north on Myrtle Street in the area of Fourteenth Street; west of Highway A1A.
It is not known if the cart hit a bump in the road or at what speed the cart was moving, however, investigators reported that the accident was a "single vehicle golf cart crash".
The cause of the crash is still under investigation. No update on the victims condition has been made available as of this morning.
Share your thoughts with our readers >>