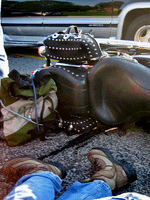 Traffic Homicide Investigator J.D. McGinnis reported to the St. Johns County local news desk that deputies from St Johns County Sheriff's Office Traffic Unit responded to a single vehicle motorcycle collision Saturday evening.
The crash occurred around 6:43 p.m. as the motorcycle driver, identified as 40 year-old Ponte Vedra resident Stephen Priester, was traveling southbound on West Silverthorn Lane.
Priester, who was not wearing a helmet, apparently lost control of the 2006 custom chopper style motorcycle after hitting a bump in the roadway and laid the motorcycle down.
Priester suffered serious head injury and possible other internal injuries.
He was taken to Shands Jacksonville by the Trauma One helicopter.
Alcohol is believed to be a factor in the crash; however, the exact cause of the crash is still under investigation.
Photo credit: © 2010 Historic City News staff photograph
Share your thoughts with our readers >>