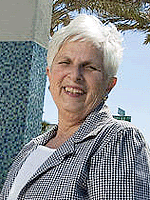 Vivian Browning, a local resident who has owned property on Vilano Beach since 1986 and serves as chair of the Vilano Beach Town Center Redevelopment Group, has to feel optimistic now that Publix Supermarkets has confirmed with Historic City News that they have signed a lease.
Vilano Beach Town Center seems to have started and stopped several times, however, this time, the stars may be properly aligned for success.
As recently as mid February, it looked like the financial woes were over when company spokesman and Managing Partner, Bob Bentz, representing the current developer of the project, Vilano Beach Town Center Partners LLC, announced that south Florida investors had stepped in to pick up the pieces.
And, pieces is exactly what was left after a former group, Vilano Beach Development LLC, gave the property intended for their $30 million dream back to Security Real Estate Services Inc. in January 2009. The FDIC took over the company later in the year.
Not much action since then — until Historic City News local reporters verified with Publix spokesman Dwaine Stevens, "We signed the lease about a week ago" and, according to records on file with the Clerk of Court, the final piece of property needed to begin construction was purchased for a reported $500,000 last week.
This is all happening relatively quickly, so, it's no surprise that Stevens has very little that he can say for certain. "The only information I have, at this time, is that it will be a 28,000 sq. ft. location," according to an e-mail received from Stevens October 2nd. "The new Vilano Beach store is projected to open in the second quarter of 2012."
The commercial property facing Vilano Road, once the "main drag" across the bridge on A1A, was transformed from an aging business district into a Community Redevelopment Area. The county floated a $12.5 million bond to pay for a beautification project complete with infrastructure improvements, landscaping and signage.
Since then, the economy tanked and the fate of the Town Center was in doubt. Today, however, Browning is saying, "There were about three acres there, and that was the last piece needed to start construction."
And, Bentz is saying that he hopes to demolish a few structures before the end of the year and begin construction in early 2011. "I would anticipate a year from today, we'd be looking to celebrate the opening of the new stores," Bentz said earlier today.
Share your thoughts with our readers >>