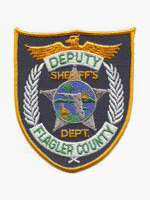 Public Information Officer Debra Johnson told local St. Johns County reporters with Historic City News that Flagler County Sheriff Donald W. Fleming hopes to help motorists involved in fender benders or any type of minor traffic accident who may have had to wait for lengthy periods of time for a law enforcement officer to respond.
The Flagler County Sheriff has undertaken a new initiative to address these situations by training volunteers for certification as Traffic Accident Investigators (TAI).
Recently, two Citizen Observer Patrol volunteers received their TAI certificates after completing an 80-hour state mandated course in Florida traffic crash investigations with an additional 40-hours of on the road training.
The in-house course was taught by Deputy Otis Gilyard of the Sheriff's Traffic Enforcement Unit. The new TAIs are Frank Ciofalo and Ken Seymour. The other TAIs are Captain Don Hebert, Captain Marcelo Estrella, Lieutenant Louis Plank, Corporal Kevin Dougherty and Corporal Arne Thilesen.
"When you think of volunteers you think of somebody who wants to donate their time. You think of somebody that just wants to do something to enhance their community," said Deputy Gilyard. "That is just what these folks do and they are devoted to serving Flagler County."
The new TAIs are authorized to respond to crash scenes, follow-up with crash victims and determine who is at fault in a minor accident. Accidents involving injuries and criminal violations will be handled by road patrol deputies. The COPs currently have seven certified TAIs available for duty.
"By certifying these volunteers for crash investigations, our road patrol deputies will be free to focus on more pressing concerns in the community," said Sheriff Fleming.
Crash investigations are only another part of the integral role the Citizens Observer Patrol plays in the operation of the Sheriff's Office. The volunteers are trained to staff the courthouse, the Sheriff's four substations and to assist with traffic control along with other duties. A new Sheriff's substation will be opening soon in the Town of Beverly Beach.
"This organization is gaining the attention of other law enforcement agencies throughout the state and beyond. We have had calls from agencies in Florida and Georgia asking for a model of our COP program," Sheriff Fleming said.
The COP program operates under the direction of Volunteer Director Tony Garofalo. For information on joining the volunteer program call (386) 586-2621
Share your thoughts with our readers >>