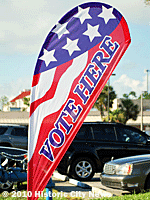 Starting this morning at 8:30 a.m., early voting began in St. Johns County and Historic City News editor Michael Gold was one of the first to vote at the office of Penny Halyburton; Supervisor of Elections.
"There is no good reason not to vote today," Gold said, as the poll worker attached the "I MADE FREEDOM COUNT" sticker to his chest. "I have been voting early since it was first offered as an option — I like filling out the form in person and seeing it go into the automatic reader, but, I hate waiting in long lines at the polls on Election Day."
In Presidential Election years, there is usually more interest in the candidates and that translates into higher voter turnout. So far today, Elections officials are hoping voter interest improves — considerably.
"It's off to a very slow start," Halyburton told Gold in an interview around lunchtime today. "I hate to make predictions, but I am going to say that by the time Primary Election concludes on August 24th; with early voters, absentee and Election Day voters we will probably see a total voter turnout of about 22%."
Gold says, "That's an embarrassment."
Halyburton said that she doesn't believe that St. Johns County voters fully realize that two of the five county commission races will be decided in this Primary, saying, "There is no November election for those seats."
"Absentee voting has been light, too," Halyburton reported. "I'm hoping that in a few more days, things will look better and I can improve my predictions."
"One of the three City Commission seats in St. Augustine could also be decided in this Primary," Gold said. "If Nancy Sikes-Kline gets more than 50% of the vote — she's elected and that race is over." There are three candidates in that race; Sikes-Kline, the incumbent, and two challengers; Dutcher Register and Chuck Hennessey. Otherwise, the top two vote-getters will face each other in the November General Election; as will incumbent Mayor Joe Boles and Don Heine for Mayor, and, Bill Leary who will face Historic City News editor Michael Gold.
The supervisor also told Historic City News that last minute address changes are easy to handle during this period of early voting because the voter can update their address and still vote on the premises. "They can change their address on Election Day," Halyburton said, "But then, they will have to leave the old precinct and drive to their new precinct to actually cast their ballot."
Halyburton is in agreement with Gold on the idea of early voting. "The sooner you vote the better. Things get busy on Election Day and you don't know what could happen between now and then."
Early voting continues through August 21, 2010 at 4:30 p.m. and voting hours are Monday – Saturday from 8:30 A.M. until 4:30 P.M. each day.
Photo credits: © 2010 Historic City News staff photographer
Share your thoughts with our readers >>