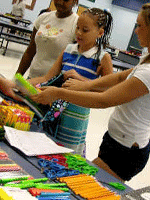 The St. Johns County Recreation Department, Community Resource Center, Health and Human Services and Hastings Ministerial Alliance reported to Historic City News that they have teamed up to help raise awareness and assist families with school supplies for this upcoming school year.
The "Eat, Drink and Be Healthy" event will be held this Saturday, August 7th at the Walter E. Harris Community Center located at 400 East Harris Street in Hastings. The event starts at 10 am and will conclude at 2 pm.
The event is intended to bring sponsors and agencies together to help families in St. Johns County with school supplies and also to share information about the different services the sponsors and agencies offer to families. Representatives from South Woods Elementary, Gamble Rogers Middle, and Pedro Menendez High School have been invited to come out and share information with the families as well.
The Hastings Ministerial Alliance will be providing the school supplies. Also, diabetes screening by Cholestcheck will be free to all participants, sponsored by Advanced BioHealing. Friends of Mental Health will furnish the food and drink.
Share your thoughts with our readers >>