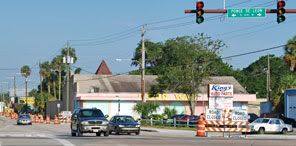 The St. Augustine local news desk at Historic City News has received an update on the status of road projects in the first block of West King Street off US 1; which can't come soon enough for businesses who have been struggling to stay open during the construction.
According to County Public Works Director Joe Stephenson, the construction work should be completed by the end of this month and repaving of the entire street, all the way to Holmes Boulevard, should begin in April.
Stephenson recently apologized to the City Commission for the lengthy construction period in the first block. "We were replacing water and sewer lines as well," he explained, "and had to do small sections to keep the older systems operating as new lines were installed".
The West King repaving is temporary, but sorely needed, he said. "Our master plan for West King is for utility extension and a wider street with curbs, sidewalks, and a middle left turn lane. We continue to seek funding for that, in cooperation with the city".
Stephenson said the repaving will extend over I-95 to State Road 13A, and he anticipates another round of stimulus funding to complete the project to SR 13.
Once started, the repaving is expected to take three to six months.
Photo credit: Historic City News photographer Kerry McGuire
Share your thoughts with our readers >>