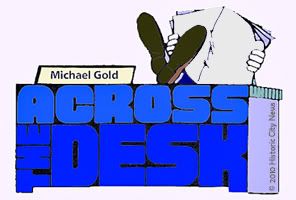 As good citizens we are called on every two years to perform a simple task that doesn't cost anything, takes less than 15 minutes to accomplish, and provides the single biggest protection we have to hold our government accountable. We are asked to vote.
Political pundits, candidates and their spokesmen in recent elections have made their strategic predictions regarding the outcome of elections based on which "group" of voters was being allowed to vote.
You may not realize that analysts, with their noses buried in the results of one poll or another, in certain elections will actually recommend someone to run against their candidate — simply to deprive opponent voting groups the right to vote when their chosen candidate is not polling well with that group. The use of a "strawman" to manipulate elections in this manner is unconscionable to me, but it has happened in St. Johns County more times than you might suspect.
One candidate for St. Johns County Commission who did not qualify, Merrill Paul Roland, was accused by some of being a "spoiler". Since he was running as an Independent, his appearance on the ballot, had he qualified, "closed the Primary" election — only Republican voters could vote for one of the other four candidates. Democrats, Independents and other minor party voters would have been excluded from voting until November — and by that time, what many would call "the real election" had already decided; albeit by a select group of voters.
Since we still have partisan elections for county offices, although many say they abhor the consequences, such methods that "disenfranchise" voters, do so with impunity — it may seem unethical, but, in most cases, it is not illegal. What sticks with me is that some voters say that they are so disgusted by the process that they don't participate at all.
THE GOOD NEWS is that in local elections this year, all voters are able to vote in all eligible races; regardless of their party affiliation. Now, if we can overcome the prevalent voter apathy, we should see everyone registered and voting — no excuses.
August 24th will decide the outcome of two St. Johns County Commission seats. The one candidate with the most votes wins in a race between Ben Adams, Randy Brunson, Ron Sanchez and Karen Stern for District 2, and, in District 4, between Jim Bryant, Joseph Mayhew and Jay Morris. You MUST vote on August 24th in those races as there will be no November General Elections for those seats.
If you are a registered voter in the City of St. Augustine, there are some differences. The City operates under a charter that specifies the process of elections for City offices. What is important to remember is that none of the City of St. Augustine, City of St. Augustine Beach, or other municipal elections or special districts run with party affiliation — all city or district voters vote in all eligible city or district elections.
There are only two choices for both Seat 3 (the Mayor's two-year seat) and Seat 4 (the four-year open seat being vacated by Don Crichlow). Therefore, neither of these races will appear on the August 24th ballot for City voters — Joe Boles and Don Heine will compete for highest vote getter in the Mayor's race and Michael Gold and Bill Leary will compete for highest vote getter in the Seat 4 race; but, not until the November 2nd General Election.
There are three candidates for City Commission Seat 5 — Charles Hennessey, Dutch Register and Nancy Sikes-Kline. Therefore, the highest two vote getters run twice — unless one of the candidates receive 50% of the votes cast plus one vote in the August 24th Primary Election. Barring that, the top two highest vote getters in the Primary Election will face each other again in the November 2nd General Election to decide the race.
There are two seats in contest for the City of St. Augustine Beach Commission. Hester Longstreet and Undine Pawlowski vie for Seat 3 in the November General Election as do Edward George and Gary Snodgrass for Seat 5.
St. Augustine Airport Authority Group 3 and St. Augustine Part and Waterway Seat 5 will have two-man races in the General Election and Anastasia Mosquito Control Board will try to settle a three-way race between Cathy Brandhorst, Jay Grimm and Gina LeBlanc in the August 24th Primary Election for Seat 4. If one candidate pulls 50% of the vote, plus 1, they are elected — otherwise the top two will run again when the race is decided in the General Election in November.
So what will be your excuse for NOT voting this year? I hope nothing — because, for a change, there are no spoilers, no strawmen, no disenfranchised; only voters. You can register to vote as late as July 26th to vote in the August 24th election or October 4th to vote in the November 2nd election. You can vote early in the Primary Election beginning August 9th through August 21st, or between the hours of 7:00 a.m. and 7:00 p.m. on Election Day; August 24th at your assigned Precinct. Early voting for the General Election begins October 18th through October 30th, or vote on Election Day; November 2nd, between the hours of 7:00 a.m. and 7:00 p.m. at your assigned Precinct.
Register to vote. Cast your ballot. No excuses this time. If you don't vote, don't complain about the way our government is run — you chose not to participate. A strong voter turnout helps us all have our say in how our local government is operated and the first election is next month.
Share your thoughts with our readers >>