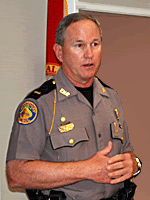 Just after 2:30 this afternoon, Historic City News reporters were notified of a two vehicle, head-on collision that occurred on Wildwood Drive at South Winter Hawk Drive.
Shae Lynn Burchfield of St. Augustine was driving a Honda dirt bike northbound on Wildwood Drive when she attempted to turn across the southbound lane; into the path of an oncoming 1994 Ford Pick-Up truck.
Jeremy Robshaw, St. Johns County Fire Rescue Information Officer, told Historic City News that the 18 year-old victim was dead at the scene by the time emergency personnel arrived.
50 year-old Frederick J. Andrews, also of St. Augustine, collided with the front end of Burchfield's dirt bike — leaving Burchfield dead; according to FHP Homicide Investigator Corporal Cohn.
According to the report provided to Historic City News by FHP Lt. Bill Leeper, Andrews was uninjured in the accident — his truck sustained about $3000 in damage. Florida Highway Patrol Trooper Devine investigated the crash; aided in traffic control by St. Johns County deputies.
Toxicology reports have been requested to determine if alcohol was a factor in this fatal accident.
Photo credits: © 2010 Historic City News contributed photograph
Share your thoughts with our readers >>