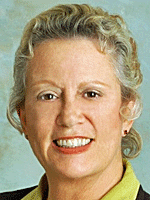 One of the three city officials directly appointed by the St. Augustine City Commission is the City Clerk — the position required by the city charter designating the person who shall make verification of authority on official documents.
At this week's City Commission meeting, we learned that there may not be a successor to retired City Clerk Karen Rogers.
City Manager John Regan reported that four city staff members and numerous external applications have been received to succeed Rogers; who retired from her $48,588.18 position last month.
Mayor Joe Boles made the suggestion to do away with the City Clerk position Monday as commissioners turned to the process of studying more than a dozen applications for the job — including one from the former City Clerk of Palm Coast; whose position was eliminated last month.
City Attorney Ron Brown said that the charter could be changed and the city manager could reassign the responsibilities of the City Clerk — if the commission decides to discontinue the office.
A staff proposal is expected at a later meeting.
Share your thoughts with our readers >>