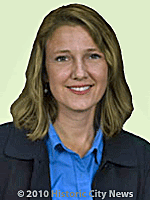 Ponte Vedra Beach resident Kelly Barrera began with the National Safety Commission in 2003 as Vice President of Scheduling Operations. She is responsible for planning and overseeing classroom, instructor and scheduling operations.
The National Safety Commission is the nation's largest provider of online driver education services; serving over two million students since 2003. In addition to its significant online presence, they publish more than 2,000,000 driver's license handbooks annually and have the rights to publish official driver's license content in 42 states.
Barrera has 18 years' experience in management, scheduling, and corporate training for American Airlines, Midway Airlines, Dillard's, and ACT Training.
Barrera earned her Bachelor of Science degree from Jacksonville University.
Barrera serves as a board member for the St. Augustine Airport Authority, and was re-elected for another term to Seat 1 — without opposition.
Photo credits: © 2010 Historic City News contributed photograph
Share your thoughts with our readers >>