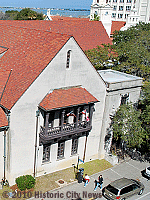 Historic City News has learned that work has begun on an estimated $483,873 in repairs to eleven of the 34 state-owned historic properties here, now under management of the University of Florida.
Jacksonville contractor W. G. Mills is handling the project, according to an announcement included in the City Public Affairs publication, The St. Augustine Report. Work is expected to continue through January.
Actual repair work is $335,414, the balance administrative costs.
The properties and projected repair costs:
Government House $85,731
Spanish Military Hospital on Aviles Street, $30,945
Watson House on Charlotte Street, $44,417
Old Blacksmith Shop $8,300
Harness Shop $9,325
Cerveau House $29,415
Haas House $31,950
Benet House $30,928
Public Restrooms $39,603
Arrivas House $11,400
De Mesa Sanchez House $13,400
The major expenses reported on the properties identified above are for wood remediation ($149,220) and finishes ($128,456).
Share your thoughts with our readers >>