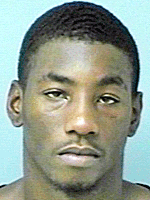 Local St. Augustine reporters at Historic City News have learned that last Friday night, Police Officer Matt Mitchell responded to 35 Hypolita Street to investigate the report of a man with brass knuckles.
The caller told police that when Mitchell pulled up to the scene, the suspect was "right in front of him."
19 year-old Richard Cashiff Lucas was detained for officer safety and a "pat down" search for weapons was performed — resulting in the discovery of a set of brass knuckles.
Victims and witnesses told police that Lucas, who resides at 78 Chapin Street in St. Augustine, and another unidentified man were walking up and down St George Street; barking like dogs.
An older woman walking several dogs in the area was reportedly threatened by Lucas when her dogs reacted to the two men. According to police, when Lucas yelled and threatened the woman, a witness told Lucas to stop; however, Lucas turned on the witness and threatened him with the brass knuckles.
Lucas was said to have lunged at the witness. He was reportedly restrained by the unidentified accomplice but not before Lucas threw the brass knuckles at the witness.
Lucas picked up the weapons and walked away with the unidentified man.
Community Affairs Officer Barbara Stevens of the St. Augustine Police Department reports that police arrested Lucas and charged him with aggravated assault and carrying a concealed weapon.
Share your thoughts with our readers >>