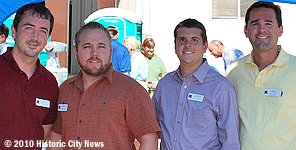 Blue Sky Farms in Hastings was alive with activity this afternoon when St. Johns County Young Republicans presented an old fashioned political rally and fish fry — and Historic City News was there.
Roy Alaimo, club president, aided by a small army of volunteers, offered attendees a hearty sampling of great food, live music, family fun, and the opportunity to visit with special guest speakers; including Congressman John Mica, Senator John Thrasher and Representative Bill Proctor.
"Thanks to Danny Johns for use of his location," Alaimo said, "today's rally was a great success."
St. Johns County Commissioner Cyndi Stevenson and Chairman Ronald Sanchez attended — together with scores of residents from around the county that dropped in throughout the afternoon.
Congressman Mica had a booth as well as the St. Augustine Tea Party, and citizens promoting "the fair tax" — whose plan is to jump-start the U.S. stock market and economy, revive the "Made in the USA" label and relieve American citizens from the fear of Tax Day, April 15th.
The Republican messages echoed across the crowds; smaller government, less government spending, encourage business growth through less red-tape and lower taxes leading to steady employment and true economic recovery.
St. Johns County Republican Executive Committee Chairman Harlan Mason and Cheryl Robitzsch, First Vice Chairman, were on hand to enjoy the perfect day for a fish fry, along with State Republican Committeewoman Becky Reichenberg and State Attorney R. J. Larizza.
Candidates for various offices around the county spoke to friends and supporters, including judicial candidates Joe Horrox, Don Holmes, Scott DuPont, and St. Augustine City Commission candidate Michael Gold.
Photo credits: © 2010 Historic City News staff photographer
Share your thoughts with our readers >>