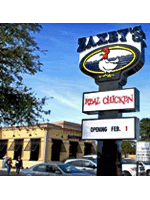 The St. Augustine local news desk learned about today's "soft opening" of Zaxby's, so, Historic City News sent a reporter to sample the fare.
Zaxby's opened its first restaurant in Statesboro, Ga., in March 1990. They are a "quick-casual" restaurant chain, headquartered in Athens, Ga. An alternative to fast food, Zaxby's offers prepared-at-order chicken fingers, wings, sandwiches and salads.
Monday is the official grand opening for the restaurant which stands on the site of the former North Ponce de Leon Boulevard "Burger King". The old restaurant was completely demolished and the new Zaxby's is a comfortable, fresh design — inside and out.
Today, we met several patrons who picked up lunch to-go and asked about their experience. One local store clerk reported that although there were a lot of cars in the parking lot, she was able to get to the counter and pick-up her order in about 15 minutes. Although she only ordered a "Zalad", she found that they are assembled at the time the order is placed; versus being pre-made and stored in a cooler.
A teller who works in a nearby bank told us that she lives in Southside, and, on the weekends, she visits the Zaxby's on Phillips Highway, south of Butler Boulevard. She told us "If the chicken here is as good as it is there", she'll become a regular.
The most popular items at Zaxby's Real Chicken today look to be the hand-breaded Chicken Fingerz and Jumbo Buffalo Wings. One of the construction workers who is finishing up part of the landscape work in the parking lot said he wanted Buffalo Wings, "as hot as I can get them". The wings are available, smothered in a choice of 10 sauces with names like Wimpy, Tongue Torch, Nuclear and Insane. Today he was talked into the "Nuclear", but next time he says he's going for the Insane.
Photo credit: © 2010 Historic City News photographer Kerry McGuire
Share your thoughts with our readers >>