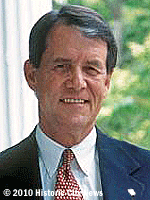 Flagler College President Dr. William T. Abare, Jr. announced to Historic City News local reporters that the college has received a $2.5 million bequest from the estate of Mary L. F. "Molly" Wiley, sister of the College's founder Lawrence Lewis, Jr.
The funds were added to the College's endowment which was established in 1978 through a gift from Mr. Lewis and currently stands at more than $44.7 million.
On March 7, 2010, Molly Wiley celebrated her 90th birthday. Born in St. Augustine, she was named for her great aunt, Mary Lily Kenan Flagler, Henry M. Flagler's third wife. She and her older brother, Lawrence Lewis, Jr., spent much of their early years at the Flaglers' former home, Kirkside, and attended the Memorial Presbyterian Church. Their mother was a beneficiary of the Flagler fortune.
In 1968, Wiley supported her brother's decision to establish Flagler College in the former Hotel Ponce de Leon, as a tribute to their great uncle and builder of the Hotel – Henry M. Flagler. This began their longstanding relationship with the College.
Lewis and Wiley established the Lewis-Wiley Scholarship, which was created to bring to the campus students who were academically talented and who had the capacity for leadership. Wiley also provided funds to establish the College's first theatre for drama productions, located in Government House, and she contributed funds for the renovation of the College's snack bar which was renamed Molly's Place.
In 1988, Wiley was instrumental in converting her mother's home, Casa Amarylla, at 6 Valencia Street for College use. Built a century earlier as the home for the Hotel Ponce de Leon's physician, the building houses offices for Admissions, Financial Aid, Registrar, and faculty in the Business Administration Department and was renamed Wiley Hall in her honor. In 2009, she provided funds to enhance the appearance of the entrance to the building.
In 2007, the former Edison Boiler Building and Artists' Studios were rehabilitated for use as art studios, classrooms, and art faculty offices. Through a generous grant from the William R. Kenan, Jr. Charitable Trust, the building was named the Molly Wiley Art Building. Also, Wiley made a significant gift to Flagler College in support of this award-winning project.
Wiley passed away on May 28, 2010, in Richmond, Virginia. She served as a trustee of Flagler College from May 19, 1995 to May 16, 1997, and she served as a trustee on the board of the William R. Kenan, Jr. Charitable Trust until her 90th birthday.
To honor her longstanding commitment to both organizations, the Trust established the William R. Kenan, Jr. Charitable Trust Endowed Scholarship. The annual scholarship is awarded to students majoring in fine arts and graphic design.
Share your thoughts with our readers >>