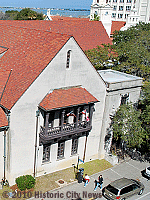 A meeting of the Board of Directors of the UF Historic St. Augustine Direct Support Organization will be held on Friday, February 11, 2011.
The meeting will be held between 10:00 a.m. to 4:00 p.m. in the Government House located at 48 King Street in St. Augustine.
Any person appealing any decision made by the University with respect to any matter considered at such meeting which affects that person's individual rights will need a record of the meeting and, for that purpose, such person may need to ensure that a verbatim record of the meeting is made, including the discussions at the meeting upon which any appeal is to be based.
Kara Sue Cobb
Senior Administrative Assistant to Ed Poppell
Vice President for Business Affairs
PO Box 113100
Gainesville, FL 32611-3100
352-392-1336
Share your thoughts with our readers >>