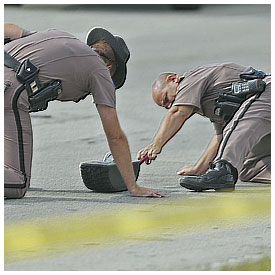 This morning at 3:15 am, Historic City News in St Augustine was notified by the Florida Highway Patrol that a 78-year-old Rockville Maryland man was rear-ended on I-95 as he was traveling, southbound, through St Johns County.

Trooper Dennis Shorter reported that Mohammed N. Arrabi was driving his 14-year-old Mercedes 4S in the center lane south of CR-210; when, for a yet unexplained reason, he was overtaken by a 2011 Nissan Altima operated by a Savannah woman and occupied by another passenger and three small children in the back seat.
The driver of the Nissan, 31-year-old Jocelyn Benitez, told Shorter that she did not see the Mercedes traveling in the same lane ahead of her, and struck the rear end; sending both vehicles into a spin and causing less than $5,000 in damage to each vehicle.
Benitez suffered serious but non-life-threatening injuries in the crash. She was transported to Orange Park Medical Center for treatment. The other driver and the passengers in Benitez vehicle were transported to Baptist South Hospital.
Occupants of both vehicles were wearing their seatbelts and alcohol is not believed to have been a factor in the collision; however, charges are pending the results of the ongoing investigation.
Share your thoughts with our readers >>